Transparency Film
The Meter Transparency Film product range offers an OHP Film presentation solution for most printers available today. We have a Transparency Film for use through your Copier, Inkjet Printer, Laser Printer or Colour Laser Printer. All Meter Transparencies are coated to allow excellent toner and Ink adhesion to the film and have ease of use "slip" characteristics, creating bright and well defined images. When used in conjunction with Overhead Projectors as Overhead Transparency Sheets or as Plan Overlays, Meter Transparency Film helps you create a superior image every time.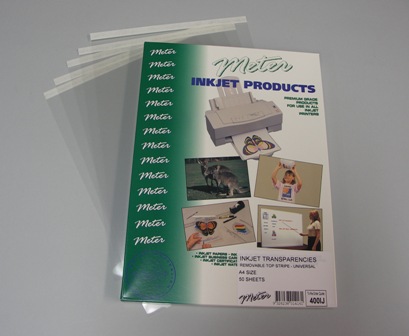 Meter Transparency Film Superior Quality
Meter Transparency Film is manufactured from superior quality polyester films that have been specially developed for use with Copiers and Printers. Thanks to highly developed film coating technology our Transparency film feeds easily and prints crisp high quality images. Meter Transparency Film can be stack fed from the paper tray in your printer or hand fed through the printer by-pass.
Meter Transparency Film Range
We have a Transparency Film to suit most types of Copiers and Printers. Our range includes Copier Transparency Film, Inkjet Transparency film and Laser Printer Transparency Film. As well as standard A4 Size we also stock A3 Transparency Film for Copiers, Inkjet Printers and Laser Printers. Meter also stocks different types of OHP Film for High Speed Copiers including Paper Backed Transparency Film and Removable Stripe Transparency Film.
For more Information on our range of Transparency Film please click on the links below
Laser Printer Transparency Film



Click Here To View Our Complete Range of Duracopy Permanent Paper
Click Here To View Our Complete Range of Self Adhesive Films
Click Here To View Our Complete Range of Monsoon Weatherproof Paper