Inkjet Transparency Film
Inkjet Transparency Film For Inkjet Printers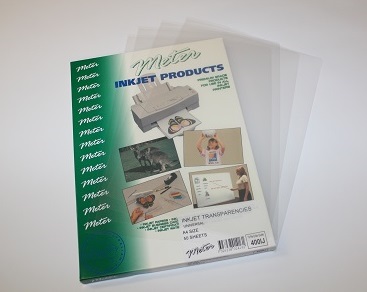 Meter Inkjet Transparency Film is designed to work through all Inkjet and Bubble Jet Printers. Each Inkjet Transparency sheet is coated to ensure ink adhesion and easy feeding through Inkjet Printer. Manufactured from base polyester, Meter Inkjet Transparency Films are designed to resist heat and prevent curling. Also known as Inkjet Overhead Projector Sheets the film can be used as a presentation acetate or as a craft item to print colour transparent images.
Range of Inkjet Transparency Film
Meter Offers a range of Inkjet Transparencies to suit different printers-makes and models. This includes A4 Clear Inkjet Transparencies and A3 Inkjet Transparency Film. Always check your Inkjet Printer settings to ensure you are using the correct Transparency Film for your Printer. Click on the links below for more information and pricing on each Inkjet Transparency Film.
400IJ Inkjet Transparency Film – Clear A4 Box 50 Clear Film-universal use for Inkjet Printers not requiring a sensor stripe or paper backing. Suitable for Screen Printers. Code : 400IJ
Our Price $54.45  ($49.50 + gst )
410IJ Economy Inkjet Transparency Film – Clear A4 Box 50 Clear Film-universal use for Inkjet Printers not requiring a sensor stripe or paper backing. Most popular with Schools and craft usage Code : 410IJ
Our Price $49.50  ($45.00 + gst )
454IJ Inkjet Transparency Film with notched corner – Clear A4 Box 50 Clear Film-universal use for Inkjet Printers not requiring a sensor stripe or paperbacking. Has notched Corner for use in some Canon Printers. Code : 454IJ
Our Price $49.50  ($45.00 + gst )
454IJA3 Inkjet Transparency Film A3 Size– Clear A3 Box 50 Clear A3 Inkjet Transparency Film-universal use for Inkjet Printers not requiring a sensor stripe or paperbacking. Suitable for Screen Printers and Map overlays. Code : 454IJA3
Our Price $121.00  ($110.00 + gst )