DURACOPY A4 PERMANENT PAPER
DURACOPY A4 PERMANENT PAPER – A4 Waterproof Paper Film (Tear resistant-Waterproof) Box 100 sheets
DURACOPY PERMANENT PAPER A4 Synthetic Paper (Opaque White Film) Box 100 sheets.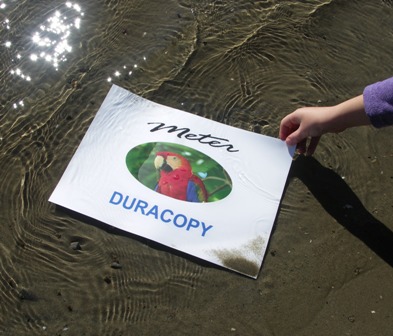 Duracopy A4 Permanent Paper looks and feels like paper but that's where the similarities end. Duracopy A4 is a white coated polyester film that won't bend, bubble or curl and will go through most laser printers and copiers. The products is tear proof, water proof, grease and dirt proof and won't yellow with age. Print in Black and White or full colour photographic images. Also known as Tear Proof Paper or Waterproof Paper, Duracopy is available in A4, A3 and A5 size.
Duracopy A4 Permanent Paper is great for…
Industrial Training manuals in wet or dirty environments or archival.
Mining and workplace applications.
Outdoor Applications
Primary Industries-Timber labelling/Horticulture etc.
Long Term Signage,maps,price lists.
Waterproof Paper-all applications.
Our Price: $POA      Call For Pricing
Code: DCA4


Click Here for Complete Range of Duracopy Permanent Paper
Click Here for Complete Range of Monsoon Weatherproof Paper
Click Here for Complete Range of Self Adhesive Films for Copiers and Laser Printers