A3 Binding Covers
A3 Binding Covers Pkts 100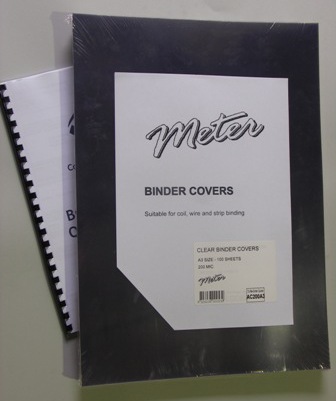 Meter stocks a large range of A3 Binding Covers that enhance the appearance of your bound documents and are a popular type of Binding Supplies. A3 Binding Covers create a professional look that stands out and grabs the reader's attention and also protects your reports, plans and drawings. Meter A3 Binding Covers are used on the front and back of presentations. For example Clear A3 Binding Covers on the front of the document, so the book title can be seen and Leathergrain A3 Binding Covers on the back of the document.
A3 Binding Covers can be used with most Binding Machines
A3 Binding Covers can be used in conjunction with Comb Binding, Wire Binding, Coil Binding, Velo Binding, Strip Binding, Slide Binding and other Binding Machines. Also known as A3 Binder Covers, Meter A3 Binding Covers are manufactured from premium materials. All Covers are 297mm x 420mm in size. A4 size Binding Combs or Wires are usually inserted into the 297mm side of the A3 Cover. All Meter A3 Binding Covers come in packets of 100's.
Large Range of A3 Binding Covers
A3 Binding Covers are available in Clear, Frosted and and Leathergrain Covers in a large range of colours including Black, White, Dark Blue, Red, Green, Maroon, Grey,and Navy Blue. The Clear A3 Binding Covers come in 200gsm and 250 gsm. The Leathergrain A3 Binding Coves are all 270gsm in weight and are made from premium quality Leathergrain Board stock. The A3 Matt Binding Covers come in a variety of colours and are 210gsm in weight.
Click on the individual links below for more information and pricing on our A3 Binding Covers range.
AC200A3 
A3 Clear Binding Covers 200 Micron (Pkt 100) Medium Weight. Our Price $38.00 + gst ( $41.80 inc gst )
ACA3
A3 Clear Binding Covers 250 Micron (PKT 100) Premium Heavyweight. Our Price $40.00 + gst ( $44.00 inc gst )
ACFA3
A3 Frosted Binding Covers 200 Micron (Pkt 100). Our Price $40.00 + gst ( $44.00 inc gst )
LGBK2A3
Black A3 Leathergrain Binding Covers 270 gsm (Pkt 100). Our Price $44.00 + gst ( $48.40 inc gst )
LGDB2A3
Dark Blue A3 Leathergrain Binding Covers 270 gsm (Pkt 100). Our Price $44.00 + gst ( $48.40 inc gst )
LGWH2A3
White A3 Leathergrain Binding Covers 270 gsm (Pkt 100). Our Price $44.00 + gst ( $48.40 inc gst )
LGRD2A3
Red A3 Leathergrain Binding Covers 270 gsm (Pkt 100). Our Price $44.00 + gst ( $48.40 inc gst )
LGGR2A3
Green A3 Leathergrain Binding Covers 270 gsm (Pkt 100). Our Price $44.00 + gst ( $48.40 inc gst )
LGMA2A3
Maroon A3 Leathergrain Binding Covers 270 gsm (Pkt 100). Our Price $44.00 + gst ( $48.40 inc gst )
LGNB2A3
Navy Blue A3 Leathergrain Binding Covers 270 gsm (Pkt 100). Our Price $44.00 + gst ( $48.40 inc gst )
LGLG2A3
Grey A3 Leathergrain Binding Covers 270 gsm (Pkt 100). Our Price $44.00 + gst ( $48.40 inc gst )



Click Here for Complete Range of Binding Covers
Click Here for Complete Range of Clear Binding Covers
Click Here for Complete Range of Leathergrain Binding Covers