Meter A3 Transparency Film
210A3 – Meter A3 OHP Transparency Film Premium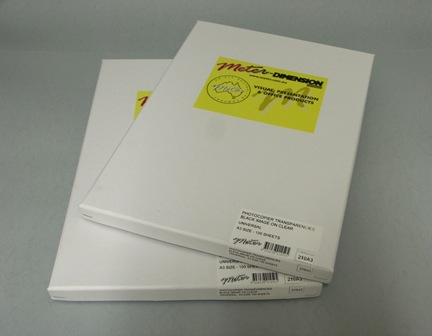 210A3 – Meter A3 OHP Transparency Film Premium – Box 100 sheets.
A3 size(420mm x 297mm).
Black Image on Clear background.For use in Plain Paper Copiers.
Meter 210A3 A3 Transparencies are specially coated for superior toner adhesion and multifeed use.
Meter 210A3 OHP Film is Clear with no sensing strip or notched corner.Universal use in copiers not requiring OHP Film with Paperbacking or Sensor strip.
Our Price $90.00 + gst     ( $99.00 inc gst )
Code: 210A3



Click Here To View Our Complete Range of Copier Transparency Film
Click Here To View Our Complete Range of Inkjet Transparency Film
Click Here To View Our Complete Range of Laser Printer Transparency Film