A4 Gloss White Self-Adhesive Film
Colour Laser/Copier Film Self-Adhesive Gloss White A4 50'S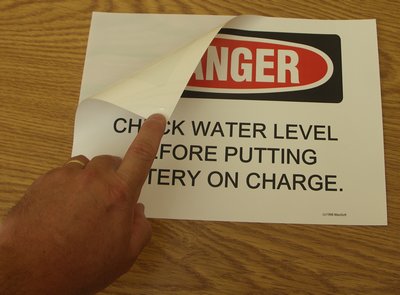 Meter CCGWSA4 Colour Laser/Copier Film Self-Adhesive Gloss White A4 50's. Meter Self Adhesive Films are coated Polyester Sheets that allow you to instantly create durable, multi purpose signs and stickers in seconds.
Perfect for both outdoor and indoor applications, Meter Self Adhesive Films combine the tear proof,moisture repellent, soil resistant qualities of plastic with the printing fidelity and colour brilliance of high quality photo paper. Strong self adhesive sticks to any smooth surface.
SO EASY TO USE
1. Create your artwork.
2. Print image on Self Adhesive Film.
3. Remove backing sheet.
4. Apply label as desired.
Our Price: $89.50 + gst  ( $98.45 Inc gst )
Code: CCGWSA4



Click Here for Complete Range of Meter Self Adhesive Film Labels
Click Here for Complete Range of Meter Duracopy Permanent Paper
Click Here for Complete Range of Ksun Waterproof Industrial Labels