12mm Wire Binding Coils
12.7mm Wire Binding Coils 34 Ring 3:1 Pitch- Boxes 100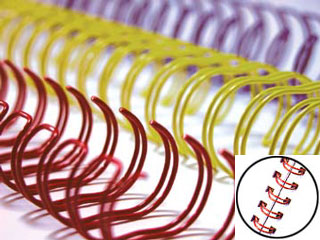 Meter 12mm Wire Binding 34 Ring Supplies are designed for use with any 3:1 Pitch Wire Binding Machine and give a professional touch to your reports, submissions and presentations. 12mm Wire Binding Coils bind up to 100 sheets of paper. 12.7mm Wire Binding Coils 34 Ring are also known as Twin Loop Binding or Wire Binding Combs, and provide strong and permanent binding of documents. When books are bound with wire they lay fully flat when opened and pages can be completely reversed 360 degrees.
12mm Wire Binding Combs are available in a range of colours, including Black, White, Blue, Red and Silver.
12mm Wire Binding Sizes 34 Ring 3:1 Pitch – Box 100 pcs
Click on the links below for pricing and more information on different Wire Binding Supplies 34 Ring sizes and colours.
12.7mm Black Binding Wire 34 Ring 3:1 Pitch(100)   Our Price $36.00 + gst  ( $39.60 inc gst )
Code : WBK123
12.7mm White Binding Wire 34 Ring 3:1 Pitch(100)   Our Price $36.00 + gst  ( $39.60 inc gst )
Code : WWH123
12.7mm Blue Binding Wire 34 Ring 3:1 Pitch(100)     Our Price $38.00 + gst  ( $41.80 inc gst )
Code : WBL123
12.7mm Red Binding Wire 34 Ring 3:1 Pitch(100)      Our Price $38.00 + gst  ( $41.80 inc gst )
Code : WRD123
12.7mm Silver Binding Wire 34 Ring 3:1 Pitch(100)   Our Price $38.00 + gst  ( $41.80 inc gst )
Code : WSL123



Click Here for Complete Range of Wire Binding Supplies 34 Ring
Click Here for Complete Range of Binding Covers Supplies