Thermal Binding Covers
Thermal Binding Covers are used together with a Thermal Binding Machine to protect your documents and provide a professional look to your presentations. All Thermal Binding Covers are pre glued so that document pages can be bound together. The Meter range of Thermal Binding Covers includes a choice of different colours and Thermal Cover Supplies to suit a range of different page sizes ranging from 5 sheets to over 250 sheet booklets. This method of Book Binding is a cost effective and economical way to bind presentations and offers several distinct advantages over other types of binding.
What are Thermal Binding Covers?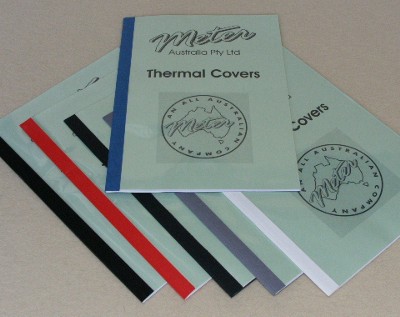 Thermal Binding Covers use a process whereby hot melt glue inside a presentation cover is heated, allowing document sheets to be bound. Ideal for small to medium size documents (150 sheets and under) the clear front and solid board back cover ensure your presentations are protected and your organisation's image enhanced. Thermal Binding does not require sheets to punched and then inserted with a Plastic spine or wire as with other types of binding. The user simply inserts the pages into the pre-glued Thermal Binding Covers and then places the document into the Thermal Binding Machine, where the glue is heated and binds the edge of the pages together. The document is then removed from the machine and left to cool for 2 minutes.
Thermal Binding Covers offers several distinct advantages over other types of Binding.
• The main advantages of Thermal Binding Covers are their simplicity and ease of use. Anyone can use a Thermal Binder and it takes only a matter of minutes to understand how the machines works and what size covers are needed to bind your document.
• Thermal Binding Covers are ideal for mailing as they fit into an envelope and lay flat. They don't have a bulky spine (as with comb or wire binding) that may get crushed in the mail, thus destroying the document presentation. Likewise Thermal Binding allows Booklets to be stacked or filed on a bookshelf easily without becoming tangled with other booklets and risking accidentally breaking the spine.
• With Thermal Binding Covers there is only one step in the binding process, unlike other forms of binding that require two steps – punching holes and then inserting a spine. This makes it a fast method of binding. You can also bind multiple smaller documents (60 pages and under) at once in most Thermal Binding Machines thus saving more time.
Meter Range of Thermal Binding Covers
Click on links below for more information and pricing.
White Thermal Binding Covers Most Popular        Clear Front-White Back
Black Thermal Binding Covers                                Clear Front-Black Leathergrain Back
Blue Thermal Binding Covers                                  Clear Front-Blue Leathergrain Back
Red Thermal Binding Covers                                   Clear Front-Red Leathergrain Back
Grey Thermal Binding Covers                                  Clear Front-Grey Leathergrain Back
Black Gloss Thermal Binding Covers                      Clear Front-Gloss Black Back
Blue Gloss Thermal Binding Covers                        Clear Front-Gloss Blue Back
Red Gloss Thermal Binding Covers                        Clear Front-Gloss Red Back
Thermal Binding Covers Sizes
1.5mm Thermal Binding Covers      Binds 1-15 pages
3mm Thermal Binding Covers         Binds 16-30 pages
4mm Thermal Binding Covers         Binds 31-40 pages
6mm Thermal Binding Covers         Binds 41-60 pages
9mm Thermal Binding Covers         Binds 61-90 pages
12mm Thermal Binding Covers       Binds 91-120 pages
15mm Thermal Binding Covers       Binds 121-150 pages
20mm Thermal Binding Covers       Binds 151-200 pages
25mm Thermal Binding Covers       Binds 201-250 pages



Click Here for Complete Range of Thermal Binding Machines