Velobind Strips 12 Prong
Velobind strips 12 Prong A4 Box 100 25mm/1"size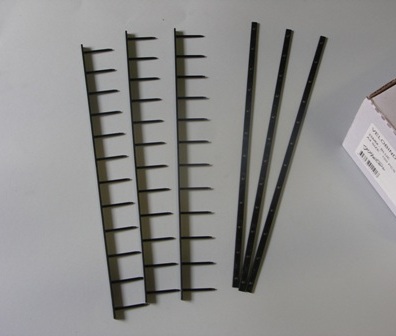 The Velobind Strips 12 Prong suit the VB100, VB200 and VB300 Velo Bind Machines and other 12 hole Velo and Strip Binding Machines. Designed to permanently bind confidential reports and presentations, Velobind Strips are a professional way of presenting documents. Velo Binding is widely used by Accountants for Financial Reporting and are a popular form of Strip Binding Supplies. Velobind strips 12 Prong are perfect for mailing documents as the spine won't crush when posted.
How Velobind Strips 12 Prong Work
These Velobind Strips are Hot Knife type Binding Strips, whereby the Velobind Machine takes the pronged element (pins) and glues it to the receiving holed element by using heat. Holes are punched in the document using the Velobind Machine and pages then placed onto the Velobind prongs. The holed element is then lowered over the prongs and the machine then cuts off remaining exposed prongs and glues the two Velobind Elements together, binding the pages between. Velobind Strips 12 Prong are 25mm, or 1 inch in height and are suitable for binding documents up to 250 pages.
Range of Velobind Strips 12 Prong
Black Velobind Strips 12 Prong  (Box 100)
Code: VBBK    Our Price $53.90
Blue Velobind Strips 12 Prong  (Box 100)
Code: VBBL    Our Price $53.90
White Velobind Strips 12 Prong  (Box 100)
Code: VBWH   Our Price $53.90
Red Velobind Strips 12 Prong  (Box 100)
Code: VBRD    Our Price $53.90
Green Velobind Strips 12 Prong (Box 100)
Code: VBGR    Our Price $53.90
Grey Velobind Strips 12 Prong  (Box 100)
Code: VBGY     Our Price $53.90
Maroon Velobind Strips 12 Prong  (Box 100)
Code: VBMA    Our Price $53.90





Click Here for Complete Range of Clear Binding Covers
Click Here for Complete Range of Leathergrain Binding Covers