Scotch 845 Book Tape 3M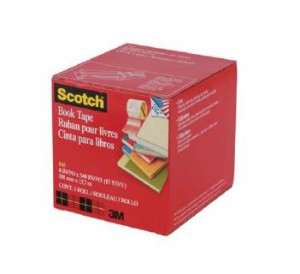 Scotch® Book Tape is excellent for repairing, reinforcing, protecting and covering bound edges and surfaces. Use on books, magazines, pamphlets, record album jackets and more. Scotch 845 Book Tape is a premium quality tape for spine strengthening and repair, corner strengthening and label protection. Ideal for Book Mending, Binding Reinforcement and covering bound edges.
845 Scotch Book Tape is made from clear, high clarity 60 micron polypropylene with a permanent UV resistant acrylic adhesive which won't yellow, shrink or crack.
845 Book Tape 38mm x 13.7 Metres     Our Price $8.00 + gst   ( $8.80 Inc gst )
38mm x 13.7 M
Re Order Code  ST38845
845 Book Tape 50mm x 13.7 Metres     Our Price $11.00 + gst   ( $12.10 Inc gst )
50mm x 13.7 M
Re Order Code  ST50845
845 Book Tape 76mm x 13.7 Metres     Our Price $15.00 + gst   ( $16.50 Inc gst )
76mm x 13.7 M
Re Order Code  ST76845
845 Book Tape 101mm x 13.7 Metres     Our Price $18.50 + gst   ( $20.35 Inc gst )
101mm x 13.7 M
Re Order Code  ST10845