Inkjet Magnetic Paper
Print on Magnetic Paper from your Inkjet Printer.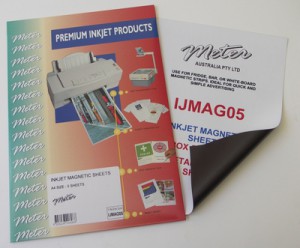 Meter Inkjet Magnetic Paper allows you to create your own printed magnets at home or in the workplace. Our Magnetic Paper surface is covered with a special coating that absorbs the ink from your printer and ensures good print quality and vibrant reproduction of colours. Meter Magnetic Paper is perfect for printing your own magnets at home, school, education sites, office and industrial training. Perfect for children's artwork that you may wish to display on the Kitchen Fridge, filing cabinets, or computer casing and is great for anyone who uses magnetic whiteboards. Meter Magnetic Paper will adhere to any metallic surface and can be easily removed without causing damage.
Magnetic Paper is easy to use.
Meter Magnetic Paper can be used with any Inkjet Printer. You simply create your design and then insert a sheet of Magnetic Paper into your printer and send to print. Make sure you have positioned the sheet correctly when feeding so that the white paper side is printed. Although Meter Magnetic Paper is A4 size, it can be easily cut with scissors to create smaller magnets. Magnetic Paper should be printed 1 sheet at a time and will not stack feed due to the magnetic properties of the paper.
IJMAG05    5  sheet pack  Magnetic Paper     $15.00 + gst  ( $16.50 inc gst )
IJMAG10   10 sheet pack  Magnetic Paper     $25.00 + gst  ( $27.50 inc gst )
IJMAG50   50 sheet pack  Magnetic Paper    $100.00 + gst  ( $110.00 inc gst )



Click Here for Complete Range of Iron On Transfer Paper
Click Here For Complete Range of Meter Inkjet Photo Paper