250mm Adhesive Book Covering 80 Mic
Metseal 250mm x 15 metre roll 80 micron Self Adhesive Book Covering
Metseal 250mm x 15 metre roll 80 micron Self Adhesive Book Covering. Metseal is a clear polypropylene self-adhesive book covering material for covering books and other publications that require protection.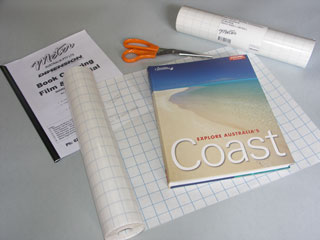 Metseal self adhesive book covering is a PREMIUM GRADE LIBRARY MATERIAL and is superior in quality to many other films currently available. It is highly durable and easy to use, and importantly METSEAL is initially repositionable. This enables the correction of mistakes and the removal of air bubbles. Grid marked release paper assists in the covering process and allows easy alignment of books.
All Metseal product is guaranteed and because it is made from polypropylene it won't damage the environment. Great for use with Meter HARDCOVER-Rigidcover. Please call for more information, prices and free samples.
Our Price: $17.00 + gst  ( $ 18.70 inc gst  )    10+ Rolls $15.80 + gst each  ( $17.38 inc gst )
Code: BSA25080



Click Here for Complete Range of 80 Micron Clear Self Adhesive Book Covering
Click Here For Complete Range of Self Adhesive Book Covering