TC03GY – 3mm Thermal Binding Covers – Clear/Grey Leathergrain Back
TC03GY – 3mm Thermal Binding Covers – Clear/Grey Leathergrain Back
TC03GY – 3mm Thermal Binding Covers – Clear/Grey Leathergrain Back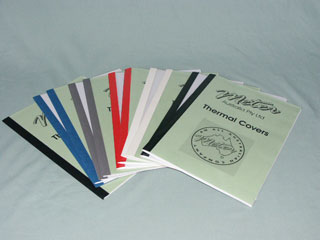 TC03GY – 3mm Thermal Binding Covers – Clear/Grey Leathergrain Back Premium Quality Thermal Covers-Box 100. (Binds 11-30 pages)
Meter Thermal Binding Covers will protect and enhance your presentations, documents, reports and manuals. Meter Clear Front, Grey Leathergrain Back Thermal Binding Covers have a crystal clear 150 micron front cover and a 200 gsm Blue cardboard back.
Meter Thermal Binding covers will work well in all brands of Thermal Binding Machines (that don't require special steel covers).
The Thermal Binding process is far less time consuming than many other binding methods – with no hole punching or awkward alignment problems. Meter Thermal Binding Covers make professional looking documents a reality in seconds.
Our Price $97.50
Code: TC03GY  



Click Here for Complete Range of Thermal Binding Covers
Click Here For Thermomaster Thermal Binder