LS470 Spiral Coil Binding Machine – Manual Punch Electric Roller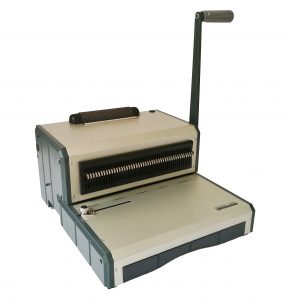 Desktop Manual Punch Spiral Binding Machine with Electric Coil Inserter.
Create great looking documents in minutes using the LS470 Spiral Coil Binding Machine. Great for producing Presentations, Reports & Training Manuals. Ideal for making PODD Communication Books.
The LS470 Coil Binding Machine's solid all metal construction enables the user to punch up to 22 sheets. Bind documents up to 350 pages using the Electrical Coil inserting winder. This Spiral Binder also has Adjustable Margins and Disengageable Punching Dies
Designed for use in Offices & Schools in regular use to create medium book volumes. Easy to use, the LS470 Spiral Binding Machine will give years of reliable service. Machine comes with a 2 year warranty.
Spiral Binding allows pages to rotate 360 degrees so that document can be folded back on itself or opened flat. The LS470 Spiral Binder uses 4:1 Pitch Plastic Coil Spirals.
Main Features
Solid All Metal Construction
Punches up to 22 sheets
Binds up to 350 page size documents
Manual Punch Electric Insert
Adjustable Page Margins
Disengageable Punch Dies
2 Year ( 24 Month ) Warranty
Our Price $749.00 ex gst    (  $823.90 inc gst )

Click Here for Complete Range of Meter Spiral Coil Binding Machines
Click Here for Complete Range of Meter Spiral Binding Coils
Click Here for Complete Range of Binding Covers